What is ReClipped?
ReClipped is a tool to annotate, collect, share and discover video segments of your interest.
Video Annotations
What are video annotations?
Video annotations are your notes on particular segment of a video. These notes can range from a simple bookmark title to an elaborate backstory about the segment. Typically, annotations are created by users, to summarise the video segment in their own words.
How to create video annotations?
Video annotations can be created on the host platform as well as on ReClipped platform.
Creating video annotations using the chrome plugin
To create annotations directly on the host platform, you need to install ReClipped Chrome browser plugin. Once you install the plugin you can add annotations on pages with videos on all the supported platforms.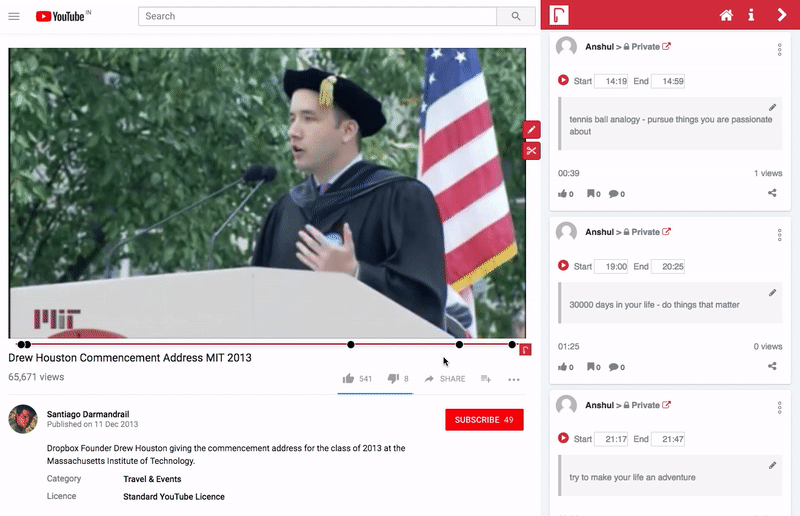 Creating video annotations on the Platform, without installing the plugin
To create annotations on ReClipped. After logging in,
Click on CREATE button on the top bar
Paste the URL of the page video, you would like to annotate (currently, YouTube and Vimeo URLs are supported)
You can start creating annotations on the subsequent page, using the "Create Snippet" button below the video
Your annotations, thus created, will be visible on the origin page also, if you install the plugin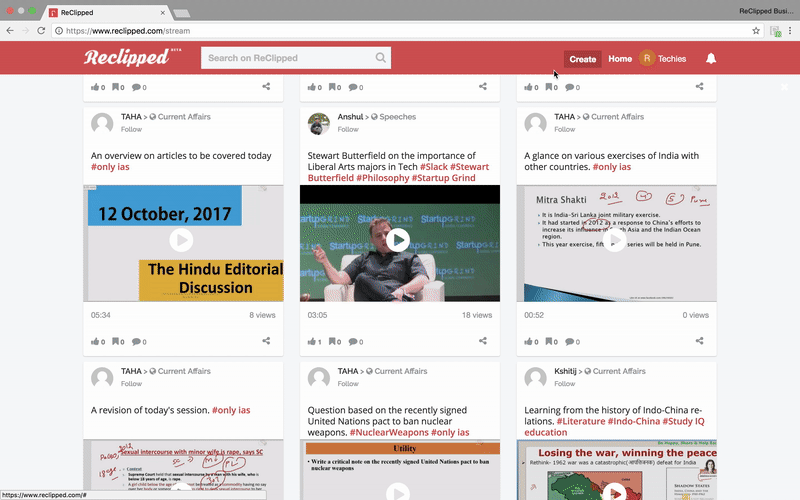 Snippets
What are Snippets?
Snippets are segments clipped from videos that can be saved into Boards and shared on any Platform that supports link sharing such as facebook, twitter, whatsapp etc. While all Snippets are annotations, not all annotations are Snippets. Those annotations that cannot be shared outside the origin platform are not counted as Snippets. Do not worry about this difference, it will hardly make a difference in your usage of ReClipped.
Each Snippet you watch on ReClipped links back to the original video it came from, so you can always watch the full video, if you want.
Important Note: Snippets created with ReClipped are not downloaded & uploaded, we just embed the original content; hence, the original content creators benefit from their content getting shared on ReClipped. There is no copyright infringement when you save Snippets on ReClipped.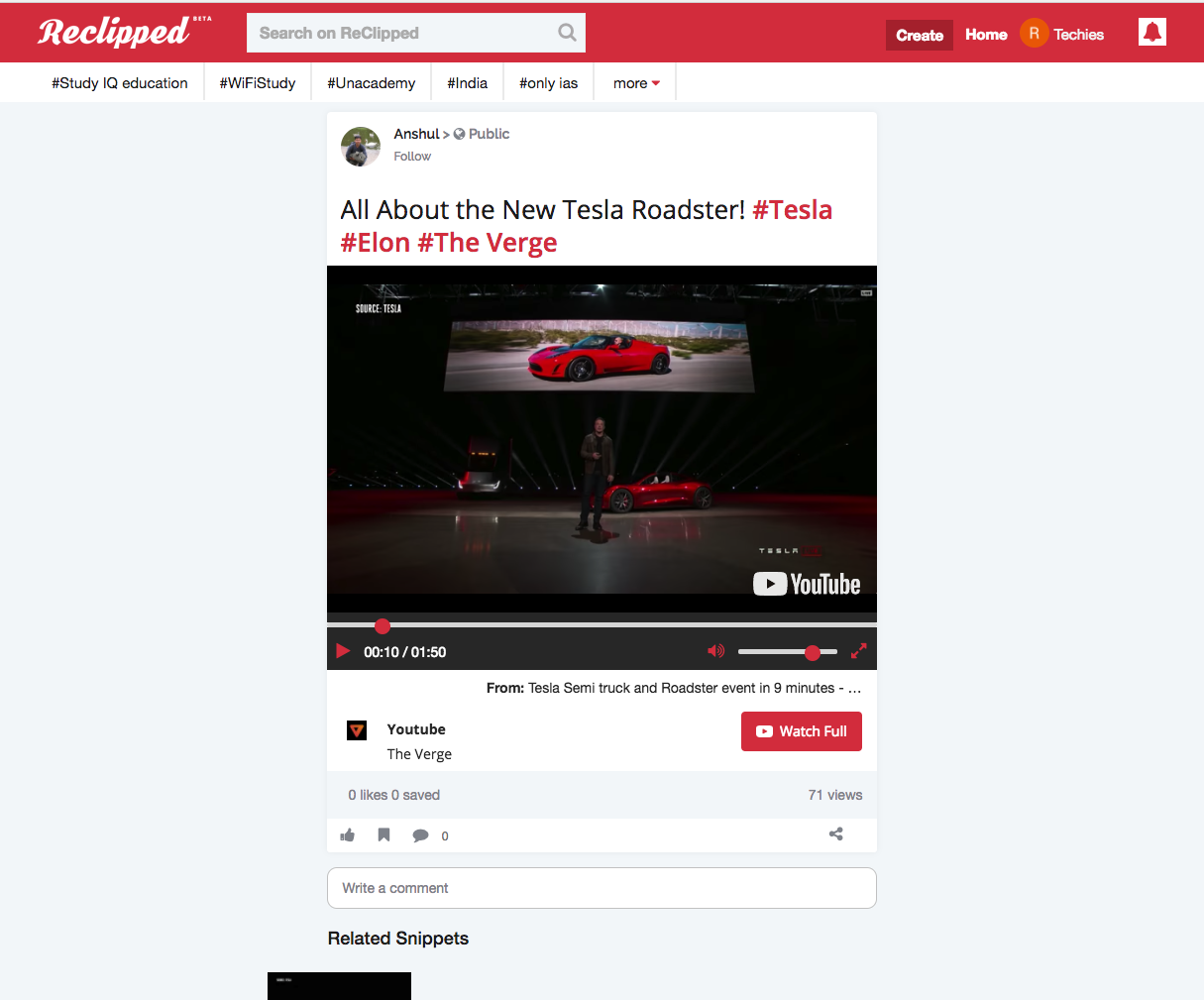 What are Summary Notes?
A Summary Note is a special snippet for quick note-taking on videos. Summary Note is like a scribble pad, where you can write your thoughts & ideas in the form of bullet points, while watching the video. ReClipped automatically adds the timestamps to your bullets
While you could achieve a similar result with snippets, Summary Notes is a more efficient way of taking notes when you are just looking for a scribble pad to jot down ideas & thoughts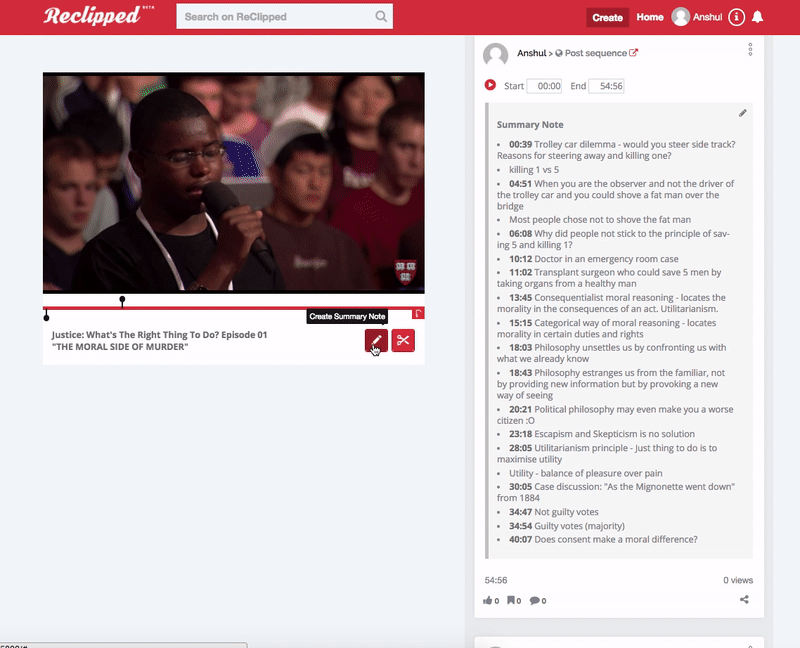 Boards
Collect your Snippets in boards
Boards are where you save your Snippets. You can create boards to collect anything - your notes on course on Artificial Intelligence in AI Notes, your collection of convocation speeches in Inspiring Speeches, or your collection of jokes in Humour board.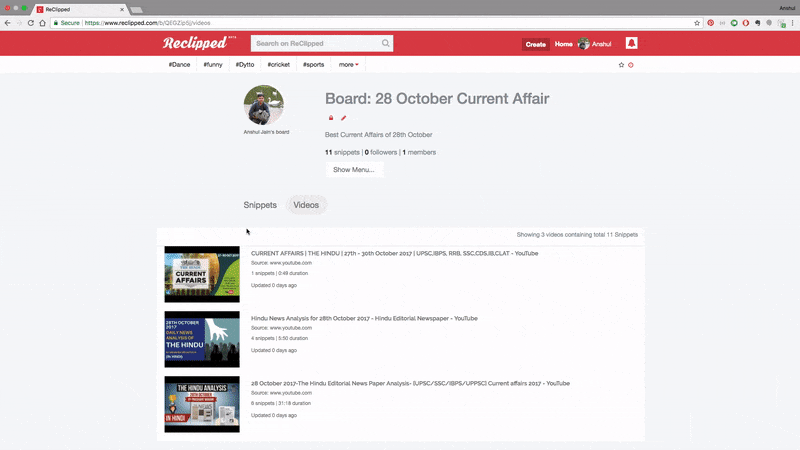 Boards can be private or public
If you do not want others to see your collection, keep the board "Private". If you would like to share your collection with the outside world, make the board "Public". You can always toggle this setting by editing the board settings.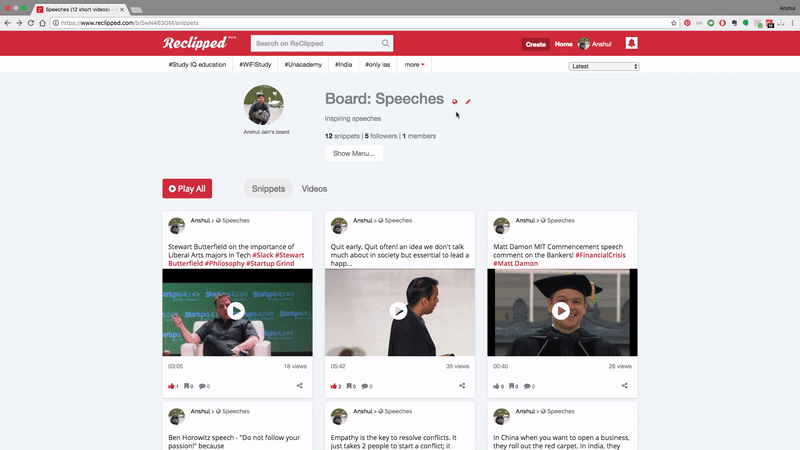 Add collaborators to your public or private boards
Add members to your board and start saving Snippets together. Shared boards are best for group study, brainstorming inspirations and for collaborating on shared interests.
Members can be added to both private and public boards.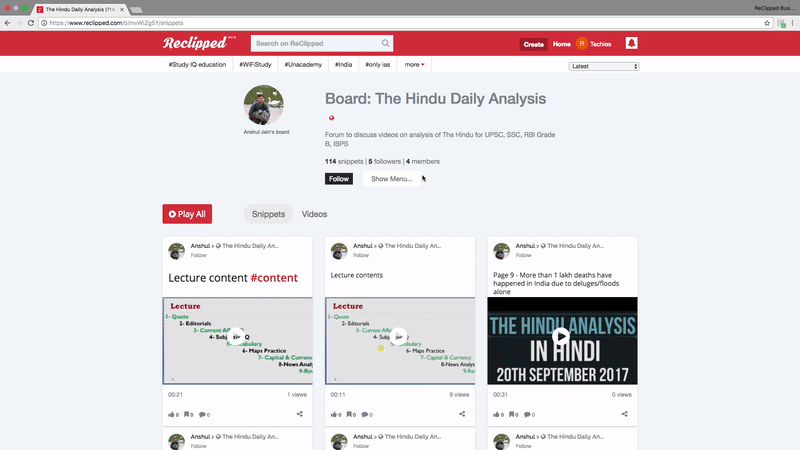 Follow Users & Boards to follow your interests
Following people and boards is how you ensure you get notified of the Snippets and Annotations of your interest. When you find someone who collects Snippets of your interest, you can follow them to get notified of everything they ReClip or follow some of their boards that match your interests.
Sometimes you may follow someone's boards and then notice that you're not into the things they're saving after all. That's okay! Just go to the board to unfollow it, or unfollow the user, to unfollow all of their boards.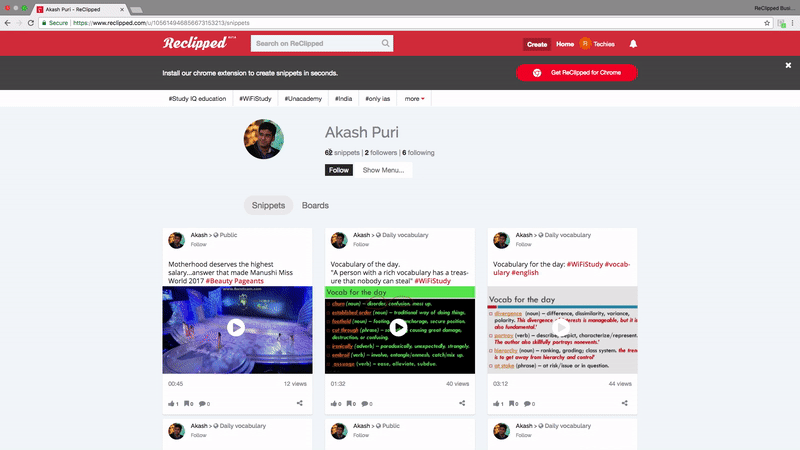 Discovering amazing videos
Search specific snippets
Use ReClipped Search on the topbar to find, if you are looking for something specific. Search not only gives you relevant videos, but also provides you the specific segment in them that match your query the most.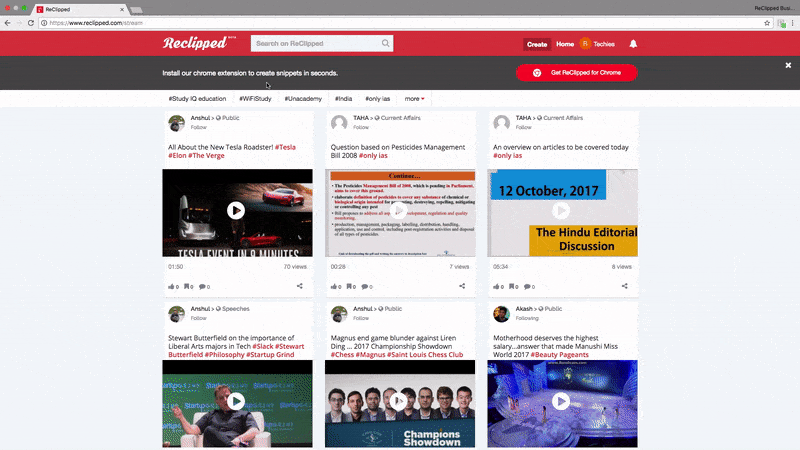 Discover from the feed
If you are more interested in browsing through what others have ReClipped! Just go to our Feed page. It is full of amazing snippets published by our users. When you play a specific Snippet, we also show you all the Snippets related to it, helping you find videos of your interest faster.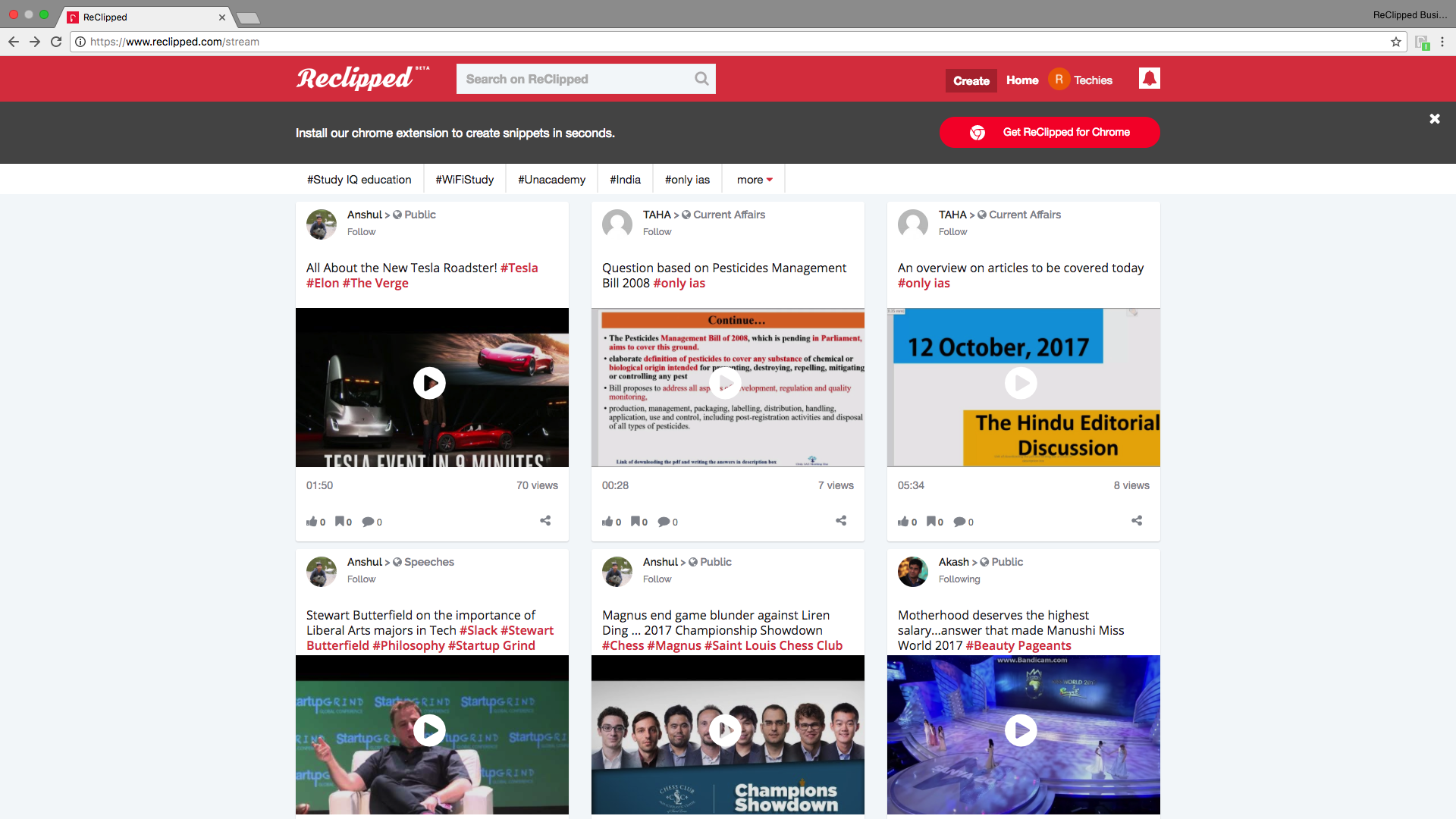 Profile Page
Place for all Snippets and Boards of a user
You can access a user's profile page by clicking on their image on the Snippet. Once you reach their profile page, you can find all the Snippets created by them, all their Boards and list of all the annotated videos.
Your profile is a glimpse into your interests.